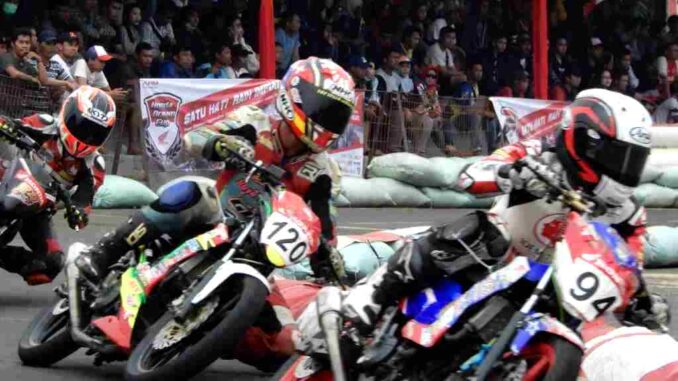 Jakmotor.com – So far, people only know Sentul as a circuit for motorbike and car races. Perhaps those whose youth in the 1990s were no stranger to the name Kemayoran. Yeahh…That's right … if his youth liked motorbike racing definitely no stranger to the Kemayoran area in Central Jakarta, Indonesia.
Kemayoran used to be an airplane runway, then changed its function after flight activities were moved to Halim Perdana Kusuma Airport, East Jakarta and Sukarno Hatta Airport, Tangerang, Banten.
People call it the Kemayoran senggol market circuit, because indeed this is a circuit that is made suddenly by using sandbags as a barrier.
Although the facilities are completely impromptu, this is where young racers are born, racing events ranging from the Suzuki one make race, the Yamaha Cup Race, the Honda Dream Cup and various other racing events such as drag motorbikes.
In 2014 the Indonesian Motor Association (IMI) had conveyed an idea to the Menpora, previously the minister was Roy Suryo to make Kemayoran one of the international circuits.
Who doesn't know the Yamaha RX King, Yamaha Force One, Suzuki GS tornado, Honda Astrea and others, this line of motorbikes was once an idol at the Pasar Senggol Kemayoran Circuit.
Usually held two days for the race, namely Saturday and Sunday, the price of admission for the audience is still cheap, around 7500 rupiah as I recall. The guardrail between the audience and the track is also just an ordinary iron fence and it seems that security for the spectators is also minimal, you know the name is also an impromptu circuit.
However, the enthusiasts of the race and the audience were also extraordinary, despite the scorching heat, the spectators remained loyal and followed the race until the end.
The model of the motorbike model that jumped in the senggol market circuit is often copied by the audience for their motorbikes at home. The favorite and prestigious class at that time was named is bebek underbone. This class is followed by a motorbike that has been modified in such a way as to be fast.
This is the moment where audience has been waiting for, namely the Bebek underbone class with its trademark snoring motor sound … anyone still remember ???
This is a line of motorbikes that often compete in the legendary circuit of Kemayoran, Jakarta Indonesia.