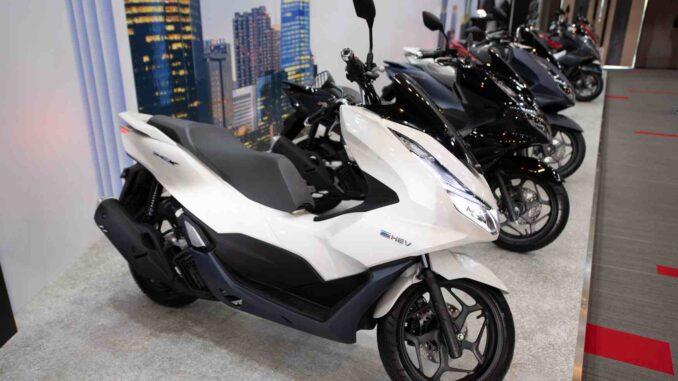 Jakmotor.com – PT Astra Honda Motor has again launched a motorcycle with an automatic type with an engine capacity of 160 cc. This product was previously launched in neighboring countries, however, it turns out that AHM has also answered Honda's curiosity and loyal consumers in Indonesia.
The All New Honda PCX 160 with completely different changes was officially introduced by PT Astra Honda Motor, Friday, February 5, 2021.
This model has received a comprehensive upgrade starting from the engine, frame, design, and features. This large automatic scooter is assembled in the country.
The new look with a luxurious and dynamic design gives a high class expression and further supports the rider's style. Supported by the Honda Selectable Torque Control (HSTC) feature on the ABS and e: HEV types, this scooter provides a feeling of safety for the rider when crossing slippery roads.
In terms of engine capacity, the latest All New PCX 160 2021 has increased to 160 cc 4 valves or four valves.
The Honda PCX160 motorbike features a new design of aluminum alloy wheels with a front diameter of 14 inches (tread width 2.75 inches) and a rear diameter of 13 inches (3.50 inches wide). Why isn't the diameter of the wheels the same? of course there are reasons that make it different, because the comfort factor for long-distance driving will be more pronounced.
The new design of the bars, namely the five Y bar, which Honda claims can create the impression of luxury and lightening of handling, as well as optimizing the stiffness balance of the wheels.
The tire size is new and different when compared to the PCX150 where the front tire size is 110 / 70-14 and the rear tire is 130 / 70-13. This size combination according to Honda can express a tough look and have a thick tread. The generous width and air volume contribute to linear handling performance and a comfortable ride. The rear tire which has a larger volume can now function to absorb shocks and add to the suspension function apart from the presence of two rear shocks.
All New Honda PCX 160 2021 motorcycles Price :
Rp. 30,350.0000 for the CBS type
Rp. 33,950,000 for the ABS type
Rp. 43,550,000 for version e: HEV